Ram 2500 vs Ford F-250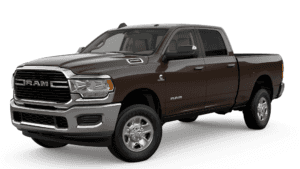 Ram and Ford are two of the most robust trucks on the streets of Georgetown, Vernonburg, and Montgomery. Their lineups include robust trucks, and with their heavy-duty models there's even more power and strength under the hood. However, how do you know which is right for you?
In this head-to-head Ram 2500 vs. Ford F-250 comparison, the team at Chrysler Dodge Jeep Ram South Savannah will help you decide. Read below to learn how these two work trucks differentiate when it comes to performance, towing, and interior features. Then decide which one is better suited for your needs.
2020 Ram 2500 vs 2020 Ford F-250: Performance & Towing
The Ram 2500 and Ford F-250 both offer a variety of powerful engines to choose from, allowing you to have the right configuration for your work duties. Though their upgraded engines prove to be impressive, when it comes to the standard setup, there are some notable differences.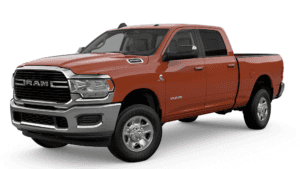 The Ram 2500 is standardly powered by the hearty 6.4L HEMI® V8 engine. This offers an impressive 410 horsepower, giving you plenty of oomph under the hood. This powertrain is also melded to an 8-speed automatic transmission that optimizes speedy acceleration, smooth control, and fuel economy. Together, this configuration also gives you a towing rating of up to 17,540 pounds.
The Ford F-250 is standardly equipped with a 6.2L HEMI® engine. Though it offers the robust power that HEMI® engines are known for, with fewer liters you're going to see a slightly lower horsepower than its competitor coming in at 385. Additionally, this engine is paired with a 6-speed automatic, which may offer less honed-in acceleration and control. Because of this setup, this engine can only tow up to 15,000 pounds, more than 2,000 pounds less than the Ram model.
Ram vs Ford: Interiors
The 2020 Ram 2500 and Ford F-250 are all about making your workload lighter. This is even true when you hop inside the cabin, as both offer a suite of features perfected to make your workweek a breeze.
The Ram 2500 makes your towing duties seamless with a ton of available trailering technology right in your cabin. One of the handiest is the 360-degree Surround View Camera. This feature uses five cameras to give you a full view of your truck. Plus, this is also equipped with a Trailer Reverse Guide that gives you a helping hand when backing up your trailer safely.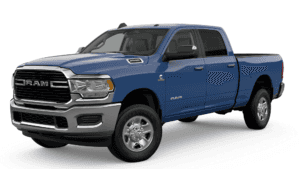 You'll see this guide and what the camera picks up right on the available dashboard touchscreen that spans an incredible 12 inches. Plus, this display offers split-screen capability, which makes multitasking a breeze. You can pull up trailering apps on one side while viewing navigation on the other, making you a champ on work trips.
The Ford F-250 is also equipped with similar features, though unfortunately they are less advanced. For example, instead of a surround-view camera, you'll have a tailgate camera on the Ford model. While this picks up 180-/360-degree angles, it's not as expansive as the Ram truck's camera. Additionally, the Ford has a much smaller available display that doesn't offer the split-screen capability.
Ram 2500 vs Ford F-250: Verdict
Though it's clear both heavy-duty trucks have a lot to offer, we think our customers will love the extra power, capability, and interior features the 2020 Ram 2500 offers. But don't take our word for it. Drivers in the Georgetown, Vernonburg, and Montgomery area can schedule a test drive at Chrysler Dodge Jeep Ram South Savannah today to see what this model is all about.