Jeep Gladiator vs Chevy Colorado

There are a lot of trucks on the market that can have you wondering which one will be better to rule the roads in the Georgetown, Vernonburg, and Montgomery area. If you're looking for a model backed by power, but has a lot of unique features, the Jeep Gladiator and Chevrolet Colorado are both great picks.
To help you see which one will better suit your needs, the team at Chrysler Dodge Jeep Ram South Savannah is here to help. With our Jeep Gladiator vs. Chevy Colorado comparison, you can see how these models are similar and different, allowing you to make an educated decision. Which one will exceed your truck needs?
2020 Gladiator vs 2020 Colorado: Power & Towing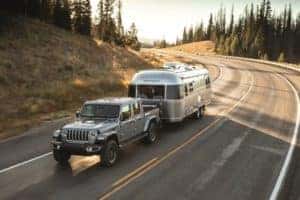 If you're in search of the perfect pickup, chances are you want a robust performance and ample capability. Luckily enough, both trucks deliver, but there are some differences you should be aware of.
The Chevy Colorado makes available three engines starting with the standard 2.5L 4-cylinder. With 200 horsepower and 191 lb-ft of torque on your side, towing up to 3,500 pounds is a breeze. Plus, with its 6-speed automatic transmission, you'll be able to seamlessly have control of your truck and the load behind.
On the other hand, the Jeep Gladiator has one engine across all trim levels because that's all it needs. With its 3.6L Pentastar® V6, you'll receive a whopping 285 horsepower as well as 260 lb-ft of torque, far more than its competitor. Plus, this truck can standardly tow up to 7,650 pounds, which blows the Colorado out of the water.
There's another thing that comes standard in the Gladiator that you won't find on the base model of the Colorado: 4×4 capability. While the Chevy model is standardly equipped with 2-wheel drive (4-wheel drive is available on higher trims), the Jeep proves its off-roading capabilities with its Command-Trac® 4×4 system, allowing you to venture where the Colorado can't.
Gladiator vs Colorado: Interiors
With all that power on your side, you're bound to be behind the wheel as much as possible. This is why both Jeep and Chevrolet make their cabins spacious and fun to be in. However, one may leave you wanting a bit more.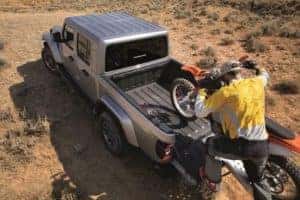 The Jeep Gladiator can seat up to five standardly in its spacious 103 cubic feet of passenger volume. Plus, with available leather seating, everyone will be cozy as well. The Colorado also offers leather seating, but when it comes to passenger room, it falls short. The base model can only hold two people, which might limit your everyday commuting needs.
Nothing is better than some great tunes while you hit the open road. The 2020 Gladiator gives you an amazing sound with its standard 8-speaker sound system, which can also be upgraded to an Alpine® 9-speaker system that boast 552 watts of power. Plus, with its available Bluetooth® speaker, you can take your tunes on the go as well.
The Chevrolet Colorado, unfortunately, only offers a standard 6-speaker sound system with a 7-speaker system available. Additionally, there's no Bluetooth® speaker available for this model.
Jeep Gladiator vs Chevy Colorado: Verdict
With the extra power, capability, and interior features found in the 2020 Jeep Gladiator, we believe that drivers in Georgetown, Vernonburg, and Montgomery will fall in love with this truck. Need some more deciding? Then schedule a test drive at Chrysler Dodge Jeep Ram South Savannah today and experience this model firsthand!