---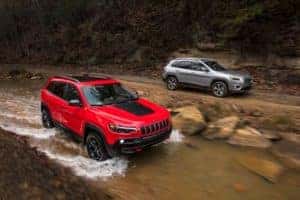 Are you dreaming of a vehicle that's powerful and comfortable to cruise the charming Savannah, Georgia, roads? If so, make your dreams a reality with the Jeep Cherokee. This SUV is ideal for someone who needs space to fit their passengers plus tons of room for storage.
If you're intrigued with what the Jeep Cherokee has to offer, but aren't quite ready to purchase a vehicle, leasing might be the more ideal option for you. Our helpful team at Chrysler Dodge Jeep Ram South Savannah is here to help you learn more about leasing, and is ready to share with you our dealership's current lease deals!
Jeep Cherokee Overview
When driving the 2020 model Jeep Cherokee, you'll notice instantly the smooth, yet powerful ride it offers you. This is all thanks to its amazing engine and transmission combination. The standard Jeep Cherokee is equipped with a 2.4L engine and a 9-speed automatic transmission. The engine and transmission duo work together to deliver an impressive 180 horsepower.
With all this power packed inside the Jeep Cherokee, it's not surprising that this SUV offers a towing capacity of up to 2,000 pounds and a payload of up to 1,000 pounds. Enjoy a thrilling ride even while towing a trailer in this Jeep model.
If you're in the market for an SUV, chances are you need a ton of room inside your cabin. Stretch out and unwind with all the space the Jeep Cherokee interior has to offer. Not only is there enough room to comfortably fit up to five passengers, but plenty of room for your cargo.
To be exact, the 2020 Jeep Cherokee offers 128 cubic feet of room for you and your passengers, and a maximum cargo volume of 54.7 cubic feet to fit all your belongings.
---
Benefits of Leasing a Jeep Cherokee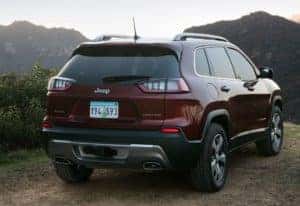 Buying a vehicle is one of the most important purchases you'll make. For this reason, some people prefer to lease. There are many benefits to leasing, including possible lower monthly payments and having a lease contract.
Having a contract is beneficial for someone who wants to try out a vehicle before they commit to buying. If you end up loving your Jeep Cherokee, you have the option to buy out the lease and become a proud vehicle owner, or you can choose from a different or newer model.
Leasing Help from Our Finance Team
Our qualified finance team can help you get in the seat of this amazing Jeep with a variety of leasing options. Be sure to ask them any questions you may have through the leasing process!
If you're ready to get the leasing process rolling sooner rather than later, you can fill out our dealership's online application. After you fill out the online application, we can go over the various lease deals and specials we're currently offering. Lease deals and specials can help you save some money on your new Jeep Cherokee!
Check Out Our Jeep Cherokee Lease Deals near Savannah GA
Our team at Chrysler Dodge Jeep Ram South Savannah is here to help you get behind the wheel of a new Jeep Cherokee. Give us a call today to ask any additional questions you have about this impressive Jeep model and the leasing process, and then schedule your test drive!
---